Publisher
Bayerisches Staatsministerium der Finanzen und für Heimat
Street address: Odeonsplatz 4, 80539 München
Mailing address: Postfach 22 00 03, 80535 München
E-mail: dienstleistungsportal@stmflh.bayern.de
Authorized representative: Ministerialdirektor Harald Hübner
VAT identification number (pursuant to § 27 Value Added Tax Act): DE 811335517
Contact information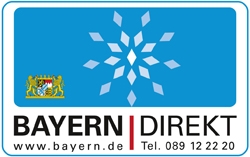 You can contact the Servicestelle der Bayerischen Staatsregierung by telephone from Monday to Thursday between 8am - 6pm and Friday to 4pm.

Phone: +49 (0)89 / 12 22 20

E-mail: direkt@bayern.de
Terrms of use
Copyright protection may apply to text, images, graphics, and the design of these web pages.
Not protected by copyright under § 5 of the Act on Copyright and Related Rights (Copyright Act) are
laws, regulations, official decrees and announcements, as well as decisions and officially promulgated guidelines on decisions, and
other official works that have been published as a matter of general information for official purposes, with the stipulation that provisions concerning prohibited alterations and attribution of sources under § 62 para. 1 - 3 and § 63 para. 1 and 2 Copyright Act are to be applied as appropriate.
As a private individual, you may use copyright-protected material for private and other personal use as laid out under § 53 Copyright Act. Any reproduction or use of copyright-protected material of these pages or parts thereof in other electronic or printed publications and their publication is prohibited without our consent. This is granted upon request by those parties that are responsible for their contents. Reprinting and utilization of press releases and speeches are generally permitted with the use of quotation marks.
In addition, texts, images, graphics and other files may be covered by copyright of third parties. Parties responsible for the contents will also provide additional information on the existence of possible rights of third parties provided these rights have not already been disclosed in the relevant disclaimers.
Disclaimer
All of the information provided on this website has been carefully researched. However, we do not assume any liability for the permanent accuracy, completeness or availability of information that has been provided. The use of the website does not constitute a contractual relationship.
We are not liable for any damage arising from the use of the contents of this website. This exclusion of liability shall not apply to the extent that the provisions of § 839 BGB (Liability in case of breach of official duty) are applicable. Liability for any damage caused by malicious software when accessing or downloading data or from the installation or use of software is excluded.
The liability exclusion does not apply to information in the German language that falls under the scope of the European Services Directive (Directive 2006/123/EC). The correctness and currentness of this information is guaranteed.
Links
Please note that there is a difference between our own content and the links that point to websites of other provides. We have provided these links solely to allow access for the use of external content as per § 8 Telemediengesetz. This external content was examined at the time of original linking to these websites to ensure that it did not trigger any responsibility under civil or criminal law. However, we are not able to examine this external content continually for changes and therefore cannot assume responsibility for it. Any liability for illegal, inaccurate or incomplete content and in particular for any damages arising from the use or non-use of information from third parties is borne solely by the provider of the site.